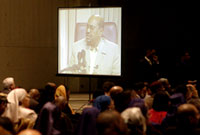 DETROIT (FinalCall.com) - The United States and the United Kingdom are themselves causing, and then exaggerating, a "crisis" in the African "Motherland's" largest and possibly wealthiest country—the Sudan—and it's now called "Darfur," the country's president said directly in a live-interactive satellite video conference February 23 with members of the Nation of Islam and reporters attending the Saviours' Day 2007 conference at Cobo Conference Center.
The U.S. and British news media have consistently exaggerated the death toll in Darfur, just as the U.S. has consistently changed its definition of what Sudan must do, in order to gain Western approval of its peace efforts, according to Pres. Omar al-Bashir.
"There is a problem, and the main cause of that problem is the rebellion," said Pres. Bashir during the un-rehearsed, and un-censored conversation, which was also broadcast live on Sudanese state-run television. "We've done everything possible to try to convince those who bore arms against the state and the people, but all efforts and mediation failed," he said.
Western, so-called "experts" say an estimated 200,000 to even 400,000 people have been killed and 2.5 million driven from their homes in Darfur since 2003. The true number is closer to 9,000, stated Pres. Bashir.
Pres. Bashir acknowledged that his country is facing a "problem" in Darfur, but he blamed rebel groups that did not sign on to a peace agreement concluded in Abuja, Nigeria in May 2006. Those groups became the focus of media attention, as well as the recipients of aid and arms from outside of the country, he said.
For full article, see:
http://www.finalcall.com/artman/publish/article_3273.shtml